New feature: Super targeting
Like and comment on the photos and videos of an Instagram account's followers

As you know, Roboclick already has a fantastic feature that allows you to follow the followers of Instagram accounts that you select. This is incredibly helpful for targeting very specific groups of users who follow an account that is similar to yours.
Now we have improved this feature so that you can not only follow but also like and comment on the media of someone's followers. We call this breakthrough feature Super-targeting.
Super-targeting by Roboclick will improve your Instagram marketing
In order to conduct effective Instagram marketing, it is vital that you target the right people. So how do you find these people? With our new Super-targeting feature you can now engage with the followers of accounts that are similar to yours.
When you know of an account that has a lot of followers who share the same interests as your account, you can now easily grab that list of followers and start following them, as well as liking and commenting on their photos and videos.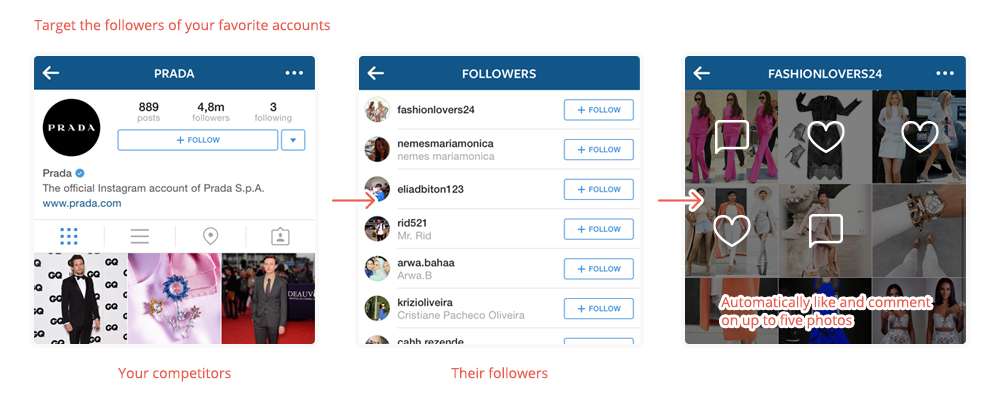 Through our rigorous testing, we've found that merely following someone is not enough. In order to really engage with their account, you'll also need to like and comment on their photos. In this way, they'll know that you're a real person and they'll be curious to also check out your profile, follow you and like and comment on your photos and videos in return. With our awesome new Super-targeting feature, you can now completely automate this activity on Instagram using our service.
Here's an example. Let's say that you're launching a new clothing label and you want to target a very high end audience. Wouldn't it be great if you could interact with the followers of your competitors? With Super-targeting by Instagress you can now automate your interactions with the followers of your competitors. As in the example below, you can target the people that follow Gucci and Dior and then interact with their accounts. By targeting people that you know are interested in fashion, you will increase the likelihood of them engaging with your high end clothing line on your Instagram account. Super-targeting helps you to hone in on Instagram users with specific interests that are geared towards your brand.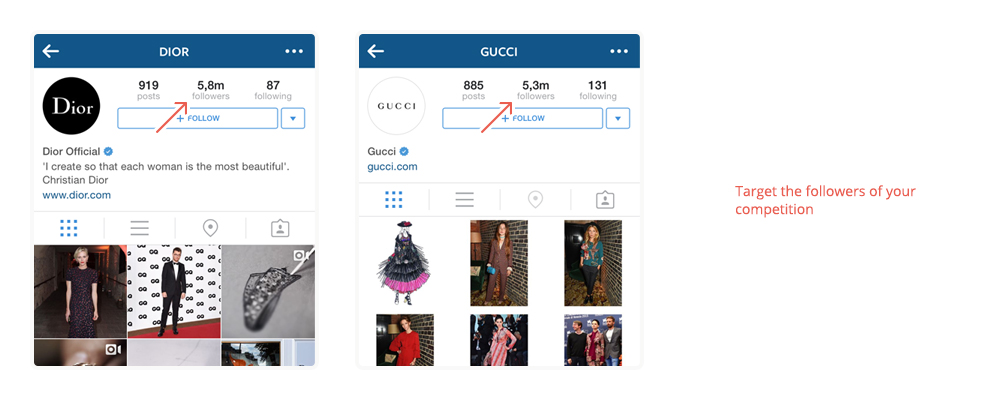 Here's another example. Let's say you're an illustrator and you have a similar style as some other famous illustrators. Now, you can input the names of these famous illustrators and allow Instagress to interact with their followers by following, liking and commenting on these people's photos. This will greatly increase the chance that they engage with your account in a meaningful way.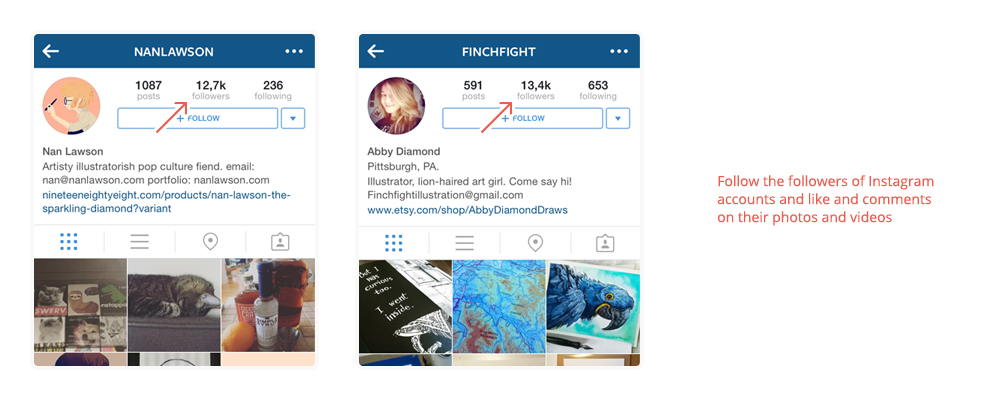 How does Super-targeting work?
First, you input the list of accounts that you want Roboclick to target in your usernames list on Activity page. Roboclick will then target the followers of those accounts and choose up to 5 recently posted media from each account for the automatic likes and comments.
Our tests show that real people generally like and comment on an average of 5 photos and videos when following a new account. Commenting and liking more than 5 photos would look unreal and could also get annoying for the users to receive so many notifications at once. That's why we target this specific amount of media for our automatic activity.
How do I start using this new feature?
1. Turn on the features you'd like to use: Likes, Comments, Follows or maybe combine these actions. If you're using Comment don't forget to turn on Don't comment same users.
2. Select Media source: Followers of usernames. You can also select Followings of usernames if you want to follow the accounts that an account follows, rather than the people that follow them.
3. Choose Media age if necessary. If a user doesn't share any media for a long time you will not interact with them.
4. Set your Minimum and Maximum likes on media to target newer photos and videos. We suggest setting the Minimum to 0 and the Maximum to 50.
5. Add usernames. We recommend that you start with 1-2 usernames. You will have much greater control by testing a username, measuring your success with that username and then trying another one.
6. Feel free to use Follow source setting which works independently from the liking and commenting.
What do you think?
Again, we make all of our updates and new features in order to improve our product for our users. We rely on your feedback to continue to improve Roboclick and we can't wait to hear what you think about the new Super-targeting feature.